St. Patrick's Day is around the corner, and it's a fun holiday to get creative with. Most people associate the color green with St. Patrick's Day, and for good reason. I can't imagine Leprechauns and clovers being any other color!  However, I personally love the rainbow theme of this holiday.  It's much more colorful and fun, and the perfect inspiration for some fun crafts with the kids.   Here are three rainbow themed crafts perfect for the season.
1. Pour-painted Rainbow Pots use 6″ terra cotta pots and 8oz bottles of acrylic paint. One bottle for each color of the rainbow!  Have plenty of newspaper or cardboard on hand to collect the paint drippings. First, tape up the hole in the bottom of the pot with masking tape.  Sit the pot upside down on to your covered surface, and start pouring!  Pour a bit of your first color directly in the middle of the pot, followed by a little bit of every color.  The colors will start sliding down the sides creating a very cool effect!  Let the pots dry over night, and you have a new colorful planting pot to use in the house or your garden.  You can trim the excess paint simply by peeling it off, or using an exacto knife.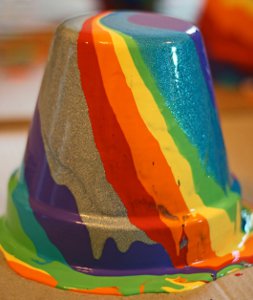 2. Melt a Rainbow.  My daughter and I did this craft, and it was so cool!  All you do is hot glue crayons evenly across the top of a canvas and start blow drying!  As they melt, they create a really beautiful "painting".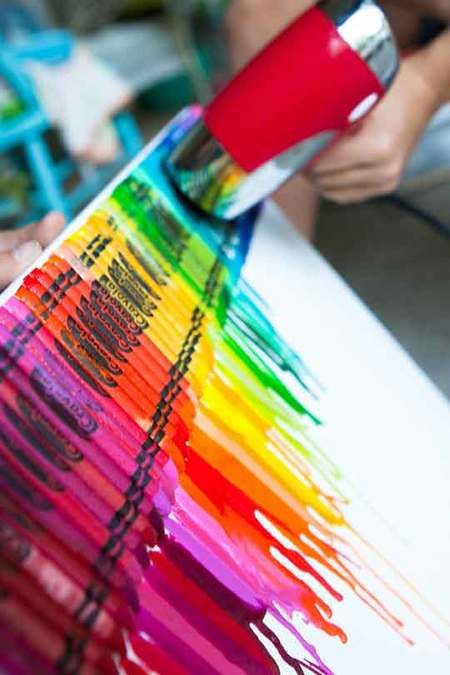 3. Rainbow Button Monogram. The craft store sells wooden or paper monograms.  Choose your child's initial and help them glue different colored buttons of various sizes.  You can use hot glue, but glue dots are definitely more safe.