Can you feel it in the air? It's that time of year! It's time for everything pumpkin, Fall and festive! There are lots of fun pumpkin and apple picking farms in the Colorado Springs area, and it's the perfect time of year for a visit. So grab the family and head out soon for some harvest adventures! Just make sure to contact the farms below before you go to make sure they are open that day.
5210 South Highway 85
Colorado Springs, CO 80911
719.389.1251 (message only)
Email:  Susan Gordon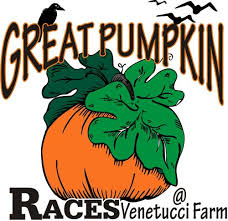 Venetucci Farm has become famous for its large pumpkin patch and for the annual Pumpkins4Kids give-away program  – but they also proudly grow more than 100 different varieties of chemical-free vegetables and herbs!  Unfortunately there will be no pumpkins this year due to hail damage. Additionally, the farm is home to pastured heritage hogs, grass-finished cows, and a large flock of laying hens.
Register for the Great Pumpkin Run at Venetucci Farm HERE. 
24024 Highway 94
Ellicott, Colorado
Tel: 719-244-7252
Email: info@wishingstarfarm.com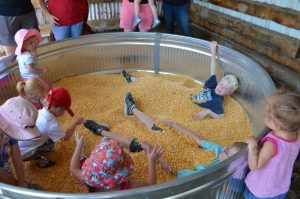 Wishing Star Farms has a big pumpkin patch with pumpkins already gathered from the field, train rides, tractor-pulled hay rides, snacks and refreshment stand, restrooms, picnic area, face painting, pony rides, farm animals, birthday parties, and school tours! Lots of fun for the whole family!
Colorado Pumpkin Patch
Jellystone Park Larkspur
650 Sky View Lane
Larkspur, CO 80118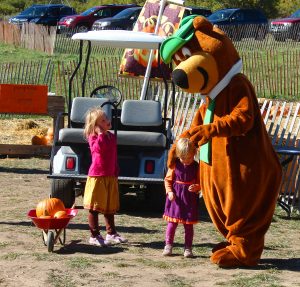 There is a reason the Colorado Pumpkin Patch was voted 8th Best Place to take your Kid.  Come see why and climb on their straw bale pyramid, play in the rope maze, target shoot at gourds, visit the petting zoo, take a pony ride, enjoy a hay ride, play in the corn box, and don't forget to pick out your own pumpkins!
They are located north of Larkspur right off I-25 at Jellystone Park and Resort Exit 174. 30 minutes south of downtown Denver and north of Colorado Springs.
1190 1st St, Penrose, CO 81240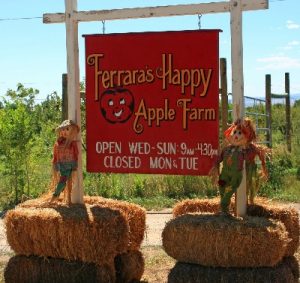 Happy Apple Farm is one of Colorado's most diversified pick your own fruit farms with Apples, Blackberries, Raspberries, and Pumpkins! They offer free hayrides and there is no admission! On the weekends they serve their apple wood smoked brisket or pulled pork along with Turkey legs and hot dogs for the kids. They also serve Panini Sandwiches, Apple pie, Apple Cider, Donuts and Blackberry cobbler along with other goodies in the Italian deli. In their Country Store they have a wonderful selection of Jams, Jellies, Marinades and great Apple Butter! They also roast Pueblo Chili's!
Diana's Pumpkin Patch and Corn Maze
1649 Poplar Ave, Cañon City, CO 81212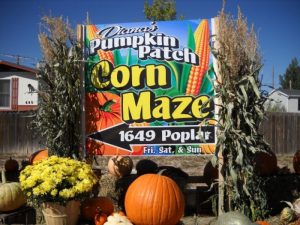 From their website:
We are a family based business that originally started raising pumpkins to shield our nursery trees from a drought that was effecting our watersupply here in Canon about 14 years ago. Diana was allowed to keep the profits from the sell of these pumpkins for her band expenses and thus, the name Diana's Pumpkin Patch was born. We soon realized that there was a need for pumpkins in our area and we started expanding. The corn maze was started 11 years ago to help families spend a little more "Family Time" on the farm. The Maze is really a big draw for our farm and it is a challenging part of the farm. The ability to raise such tall corn ever year on minimum space and very limited water is a genuine credit to Tim. He is the true farmer of this operation. Jimmy, our son, is his right hand when work needs to be done in the field. We are both proud of his equipment skills and willingness to help with the farm. I am Sue, the mom of this operation. I suppose the Maze ideas are mine and the love of variety in planting, when it comes to pumpkins. Once we realized the Maze and pumpkins went together well we expanded and Diana's education was our goal. We have not been able to fund her entire education, but all of our efforts have helped support her dreams of a college education. We are proud of what she has accomplished. We have made your Fall Fun a very big part of our lives and we hope to do this for a very long time. Come out and see us, we would love to meet you!
Let us know if we're missing any farms! We would be happy to add them to the list!