Things got real when 2-year-old Jaxon Arbuckle took his Little Tykes Cozy Coupe for a cruise around his driveway.  Little did he know a police officer was just around the corner, and was about to pay him a visit.
Jaxon's mom, Ashley Crawford noticed a police officer handling a minor accident on their block, and thought how cute it would be if came and pulled Jaxon over while she took some pictures.
Crawford chose the right officer for the favor.
"I thought, 'How cute would it be if I got a picture of Jaxon pulled over? I waited for him to finish up with his incident report and asked him if he wouldn't mind turning the lights on and pulling Jaxon over," Crawford told Yahoo Parenting.
"I saw this little boy who looked to be not much older than my son, and he was running up and down the street like my son does, and he just made me smile. He had this Little Tikes car, and his mom asked if she could snap some pictures. I would never say no to a boy like that. He kept looking up at me like I was some kind of Transformer. He kept smiling," policeman Bill Mayo said. "I'm just a big kid as it is. In a child's world, make believe and pretend is what it's all about. I would do it a thousand times over."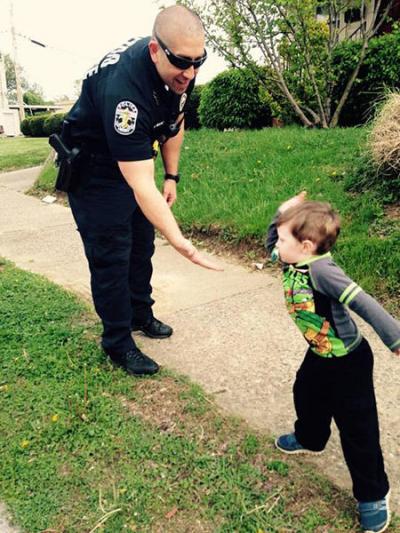 Officer Mayo ended up staying for a half an hour, playing, chatting and taking pictures.
In light of recent events that sometimes paint police officers as the bad guys, Crawford felt it was important to teach her son that police are here to help, and they shouldn't be feared. "You hear so much negativity about police officers. Whenever they're on the news, it's for something bad. But Officer Mayo was the nicest guy I have ever met. It was such an amazing experience."
Officer Mayo said he just did what any other member of his squad would have done.  "I can assure you that I have witnessed countless of the exact same acts of kindness from my fellow police officers on a daily and weekly basis."