Your Facebook timeline is probably full of recent back-to-school pictures. You know the kind. Lots of happy kiddos decked out in new clothes, holding their cute little signs showing what grade they're going in to this year. It's become a social tradition of sorts.
Well, one mom's back-to-school photo was a little less than traditional, but definitely hilarious.  It was clearly meant to be a joke, but some parents are quite offended by it.
In the picture, professional photographer and mom Jessi Kittrell dons a fuzzy pink robe and slippers while holding a margarita glass and a bottle of tequila. Her sign says "Bye Felicia!" Her adorable daughter, looking a little less enthused than mom holds up a sign that reads "1st Day of Kindergarten." The photo was clearly staged— but it's still getting a lot of mixed reviews.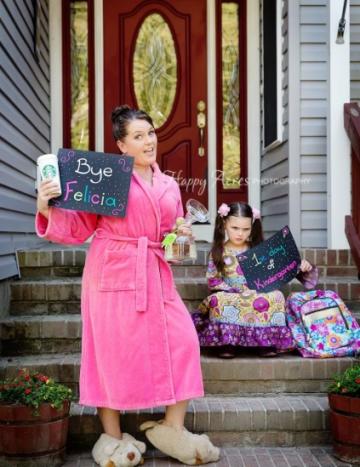 One mom commented, "I didn't enjoy my kids going back to school at all. And mine are in 7th and 3rd grades. Maybe there's something wrong with my little family but my girls love each other and I actually LOVE having my kids around. We haven't gotten tired of each other yet but we are definitely tired of work and school sucking up all of our time. Guess that's unusual. :/"
Kittrell, who owns Happy Acres Photography in Gloucester, Virginia, told ABC News that it was staged, and a humorous way to display her real mixed emotions of her daughter, Bailey, starting school.  "She's my sidekick. We have gone everywhere and done everything together since she was born," Kittrell said. She also said her daughter loves the camera.
What are your thoughts?  Do you love it or hate it? Tell us in the comments below!