Because the countdown to my son's next birthday always begins the day after his birthday, I am faced with the challenge of picking something exciting to do each year. My house is on the small side and we can't plan one outside due to the unpredictability of the weather in October, so I usually do parties off site.
This year we decided to try out Bullseye Battlefield in Colorado Springs . Bullseye Battlefield is an indoor Nerf arena for kids 5 and up. When I decided to book the party, my son and I had never been to Bullseye so we were unsure what to expect. I knew my son liked Nerf Guns so you can't go wrong. Below is a review of our experience.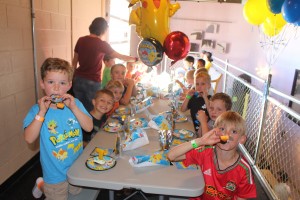 Party Package and Party Area: The party package costs $225 for the following; Party area, Party host, Level One Equipment Rental, Safety Briefing.  They offer add ons as well, if you want them to supply plates, food etc. We had our party on a Sunday which is an extra $150 but you get the arena to yourself, no outsiders. It should be noted the $225 package isn't private, which means there could be other players while you party is playing. I don't see this as a huge issue because the more people you have the more fun it is to play.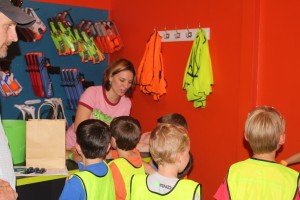 Review of Package:  The party from beginning to end ran very smoothly. This was in great part because of our party host. From the moment we arrived until we left she coordinated everything. The checking in process can be hectic, and to have someone coordinate is great. They even have a thank you card list that they put together for you. I loved that. They have two party rooms one downstairs one up, we had the upstairs room and it was great.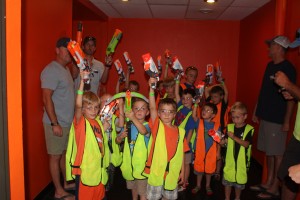 Equipment: With the party package you receive level 1 equipment. They then have 2 more levels of guns, but you have to pay extra. One major thing I forgot to tell my guests was that they can BRING THEIR OWN GUNS! It wasn't a huge deals because 6 year old boys loving playing with different guns. they have a huge variety of guns, so it's great. The guns pictured are Level 1 Guns.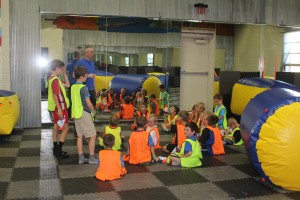 Safety: I love that Bullseye puts a focus on safety and teamwork. Everyone gets a safety briefing prior to play and everyone wears a vest and safety glasses. I loved that there was a director on the arena to give the kids games and challenges. I even joined in and it was a blast! They do not allow shooting others between play and they monitor the arena to make sure everyone is following the rules.
On a scale of 1-10 for birthday parties. I would rate Bullseye Battlefield a 10. My son had a blast went without a hitch. For more information on Bullseye Battlefield. Click here.