Colorado Springs and its surrounding areas are home to countless beautiful hiking trails!  We've chosen the ones we feel are the most kid friendly, so get out there and have some fun this summer!
1. The Crags Trail: Children of all ages will love this hike. There are rocks to climb, pinnacles to reach, and streams to investigate on this fun trail with awesome rock formations to oooh and awe over!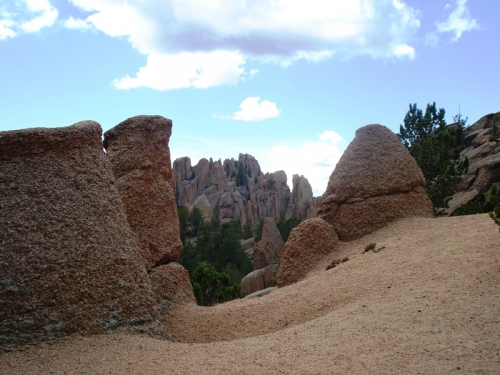 Length: 4 miles to 26 miles (depending on trail)
Duration: 1.5 to 3.5 hours (easy trail) 6-9 hours (to the top of Pikes Peak)
Trail Difficulty: Easy to Advanced (depending on trail)
Elevation Gain: 720 ft. (easy) 4,300 ft. (to the top of Pikes Peak)
Address: 615 Teller County Rd 62, 

Divide

 

CO

80814
2. Fountain Creek Regional Park: Cattail Marsh Nature and Fountain Creek Trails: Common wildlife at Fountain Creek include turtles, cormorants and great blue herons! The park is home to one of the region's few wetlands, which also features wildlife observation pavilions and informative kiosks around the spring-fed ponds.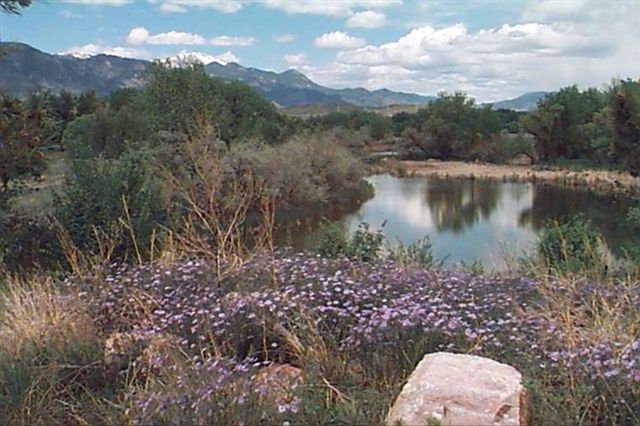 Length: 1.6 miles in and out
Duration: 1 hour
Trail Difficulty: Easy
Elevation Gain: 247 ft.
3. The Columbine Trail: The Columbine Trail is great for trailblazers and toddlers alike.  You can explore Helen Hunt Falls, or head up the Columbine Trail.  Stunning views, the sound of rushing water, and lots of shady areas make this the perfect summer hike.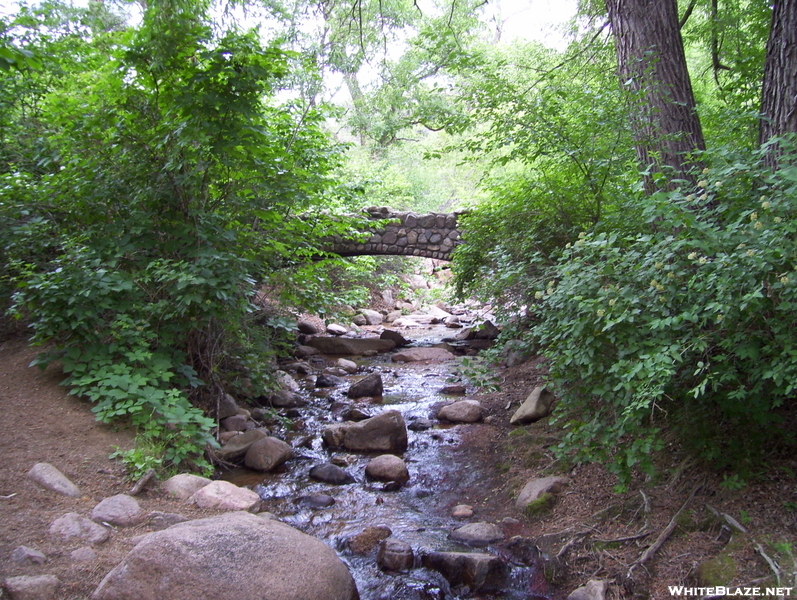 Length: 8 miles
Duration: half day
Trail Difficulty: moderate
Elevation Gain:  1711 ft.
4. Bear Creek Trail: The park's 1235 acres feature a hands-on nature center and four different trails for all ages. A short leisurely hike great for kids and dogs. Your family will get to see lots of wildlife in their natural habitat!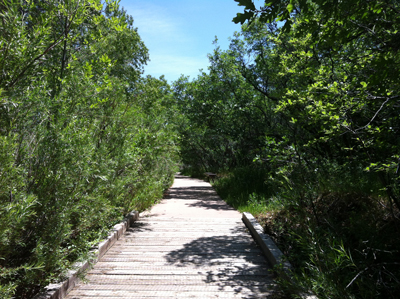 Length: 0.4 miles
Duration: 30 minutes
Trail Difficulty: easy
5. Garden of the Gods: With stunning views of beautiful red rock formations and the choice of paved paths or dirt trails, Garden of the Gods hosts 15 miles of trails and paths, with some that are even wheelchair accessible.  It's the perfect hike for all members of the family!  Stop by the visitors center for a trail map.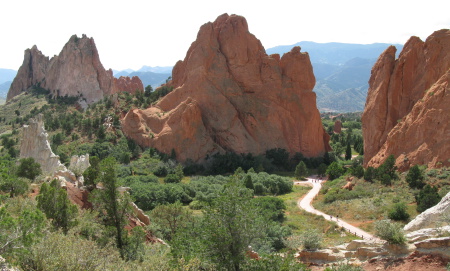 Trails include:
Start at the main parking lot for the PERKINS CENTRAL GARDEN TRAIL. This is an easy, 1 1/2 mile roundtrip over a concrete foot path, with less than a 30 foot rise. Wheelchair and stroller accessible, this loop is in the heart of the Park at the base of the highest rock formations.
Other great trails include RIDGE TRAIL, a moderate, 1/2 mile loop, with less than 100 foot rise in elevation. This path gives you the feeling of being among the rocks.
SIAMESE TWINS TRAIL is an easy 1 mile roundtrip, with less than a 150 foot rise. There is a unique view of Pikes Peak through the natural window of the twins.
CHAMBERS/BRETAG/PALMER TRAIL is a moderate, 3 mile circle with less than a 250 foot rise. Nearly circling the entire Park, this trail covers rolling, rocky terrain away from the traffic.
SCOTSMAN/BUCKSKIN CHARLIE TRAIL is a moderate trail that loops through the Park. Enjoy the distant views of the Central Garden formations from these rolling, rocky trails.